Access Mental Health for Moms
Posted on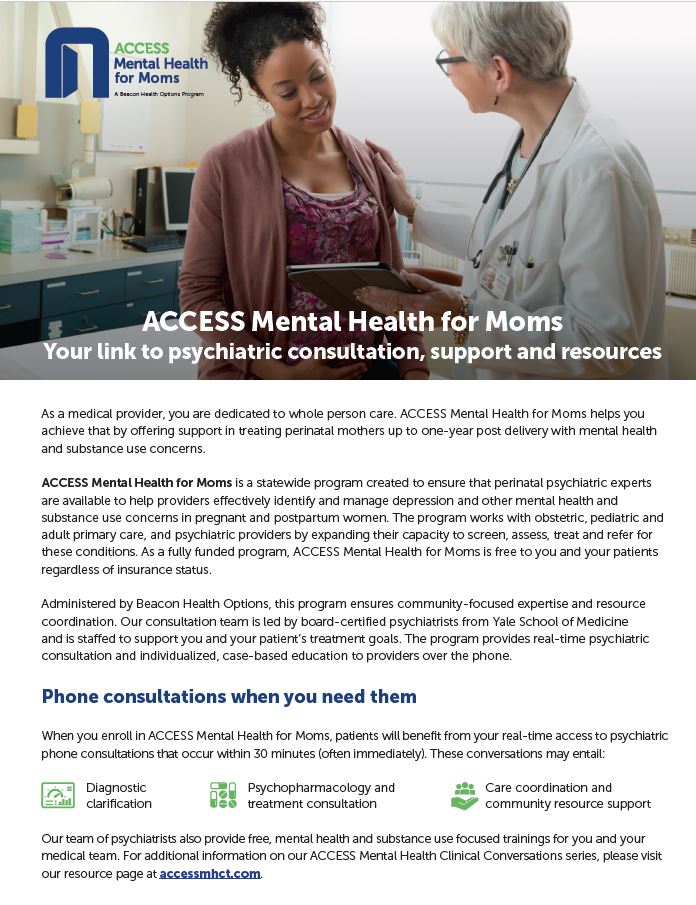 ---
Baby Formula Shortage
Posted on
Steps to safely nourish your baby during the formula shortage
Due to supply chain issues coupled with the recall of several formula products in recent months, parents are finding it more and more difficult to find stores without empty shelves of formula.
There are some steps that we are recommending parents and families to follow in order to navigate this very challenging and scary time:
Ask family members and friends to keep an eye on the formula shelves at the stores they visit. Check smaller stores too, which may not run out as quickly as the larger stores that get more traffic.
Check online to see if you can buy directly from the manufacturer or from a reputable distributor. Facebook also has groups that you can search for and join where members share information about shelves being restocked as well as other tips and tricks for finding specific types of formula.
Avoid stockpiling formula. According to the American Academy of Pediatrics (AAP), they are advising to buy no more than a 10-day to 2-week supply of formula to help ease the impact of shortages.
Contact your local WIC office for recommendations on accessing available supplies.
And as always, you are encouraged to call our office for recommendations on other brands, including store brands, that would be safe for your baby. Most infants can safely switch, but some have allergies or other special dietary needs that require formulas with specific ingredients.
---
Tides of Mind
Posted on
We are very excited to announce that starting on April 13th, Mari Hogan, LCSW with Tides of Mind, will be working with us to service patients 6 and up with behavioral health concerns. She will be working out of our Waterbury office every Wednesday and Friday from 9:30AM-5:30PM.
Mari is a licensed clinical social worker with over 15 years of experience in the field of mental health. She has worked with children, teenagers, adults, couples and families throughout her career. Mari has experience in the assessment and treatment of Anxiety Disorders, Depression, Bipolar, and other Mood Disorders, trauma, grief, loss, attachment, relationship issues, divorce, adoption and major life transitions. She has a special focus on working with females from adolescence through adulthood to cope with women's health and mental health issues, such as Postpartum Depression and pregnancy loss. In addition, Mari specializes in brief treatment in medical settings, such as hospitals and medical clinics. Mari's friendly and collaborative approach creates a comfortable and safe space for her clients. She is skilled in numerous therapeutic techniques, with an emphasis on Cognitive Behavioral Therapy, and trauma informed therapies. Mari believes we all have the internal resources and resiliency to get through tough times, and she will help you find that within yourself. Mari helps her clients overcome emotional hurdles, life challenges and limitations by assisting them in building skills and developing their personal growth.
We look forward to you meeting her!
---
An Important Message from Maria Bernadi
Posted on
We are sad to announce that Maria Bernardi, our PA, is leaving the practice. We will miss her greatly.
"With a heavy heart, I have decided to leave Pediatric Associates of CT to pursue other career opportunities. It has been my greatest pleasure to work at Pediatric Associates of CT for the past 19 years. I will always remember the great relationships I developed with patients, both past and present, and with the wonderful professionals that I have been fortunate to work with during my time at PAC. I will miss my patients dearly and hope you all grow into healthy, happy adults!"
Sincerely,
Maria Benardi PAC
---
UConn Screening Study
Posted on
We have partnered with UConn in a screening study for developmental concerns. If you enroll in this study and your child shows some risk for a developmental concern, you will be offered a no-cost evaluation for your child soon after you complete the screen.
If your child is due to come in for their 18-month-old well check, please complete the questionnaire prior to your appt. You may do so by going to www.checkupquestions.com. We encourage all of our age appropriate patients to participate.
---
An Important Message from Dr. Charles Fischbein
Posted on
It has been my privilege to serve several generations of patients in the greater Waterbury area for the past 45 years! At the end of May 2019 I will retire from practice. I will miss my patients and their parents, many who have become friends. Please know that you will be well served by my colleagues at Pediatric Associates of Conn., P.C.
---