An Important Message Regarding Dr. Bailey Geib
Posted on
We are sad to say that as of December 10th, Dr. Bailey Geib will be parting ways with Pediatric Associates of Connecticut.
Dr. Bailey Geib has enjoyed meeting your families and watching your children grow and develop.  She is very grateful that she had the opportunity to support their growth and development, and for the relationships she has developed with patients and families over the last 5 years. Although she will be greatly missed, we wish her all the best for her future endeavors.
---
Tides of Mind
Posted on
We are very excited to announce that starting on October 10th, Dr. Patricia Thomas with Tides of Mind will be working with us to service patients 6 and up with behavioral health concerns. She will be working out of our Waterbury office every Monday and Tuesday from 9:30AM-5:30PM.
Dr. Patricia Thomas is a licensed professional counselor. She holds a Doctorate in Counseling Psychology and has over 30 years of experience working with children, adolescents, young adults and their families. In addition, Dr. Pat's background includes assessment and treatment of educational, mental health and behavioral concerns, including ADHD, executive functioning deficits, emotional and behavioral difficulties, relationship issues, anxiety, depression, family conflict, acute stress, and life transitions such as adjustment to illness, changing schools, divorce and grief.
Dr. Pat utilizes a variety of clinical strategies and evidence-based interventions to help her clients, and the parents of minor children to practice productive responses to distressing experiences, anxiety-provoking situations, and negative thoughts and feelings. Her therapeutic techniques include a Solution-Focused approach and Cognitive Behavioral Therapy to meet the unique needs of her clients.
She provides a safe, caring, and compassionate environment. Her empathy, experience, and warmth help clients in the development of skills by guiding them in identifying and understanding the challenges that impact their well-being. Dr. Pat's extensive experience, knowledge base, and skills acquired over her career, aid her clients in experiencing their potential through personal growth. She truly enjoys working with children and adolescents, while educating parents on child and adolescent behavior.
We can't wait for you to meet her!
---
PATH
Posted on
Providing Hope, Support & Information to Families
---
Dr. Baum's Farewell Message
Posted on
We are sad to announce that Dr. Baum will be leaving the practice November 30, 2023. She will be greatly missed!
"It has been a pleasure working with the wonderful staff and fabulous patients of pediatric associates for the last 15 years!
However, I have made the difficult decision to leave. My last day will be November 30, 2023.
Please know that I will miss everyone that I have come to know while working in this office and will miss you all for many years to come!
Best wishes to all!"
Sarah A. Baum, M.D.
---
RSV and ways to prevent it
Posted on
RSV cases are on the rise and we understand how scary it can be. Please see below for some information provided by the CDC on ways to help prevent RSV and who is more susceptible to it.
"There are steps you can take to help prevent the spread of RSV. Specifically, if you have cold-like symptoms you should
Cover your coughs and sneezes with a tissue or your upper shirt sleeve, not your hands
Wash your hands often with soap and water for at least 20 seconds
Avoid close contact, such as kissing, shaking hands, and sharing cups and eating utensils, with others
Clean frequently touched surfaces such as doorknobs and mobile devices
Ideally, people with cold-like symptoms should not interact with children at high risk for severe RSV disease, including premature infants, children younger than 2 years of age with chronic lung or heart conditions, children with weakened immune systems, or children with neuromuscular disorders. If this is not possible, they should carefully follow the prevention steps mentioned above and wash their hands before interacting with such children. They should also refrain from kissing high-risk children while they have cold-like symptoms.
Parents of children at high risk for developing severe RSV disease should help their child, when possible, do the following
Avoid close contact with sick people
Wash their hands often with soap and water for at least 20 seconds
Avoid touching their face with unwashed hands
Limit the time they spend in childcare centers or other potentially contagious settings during periods of high RSV activity. This may help prevent infection and spread of the virus during the RSV season
Researchers are working to develop RSV vaccines, but none are available yet. A drug called palivizumab (pah-lih-VIH-zu-mahb) is available to prevent severe RSV illness in certain infants and children who are at high risk for severe disease. This could include, for example, infants born prematurely or with congenital (present from birth) heart disease or chronic lung disease. The drug can help prevent serious RSV disease, but it cannot help cure or treat children already suffering from serious RSV disease, and it cannot prevent infection with RSV. If your child is at high risk for severe RSV disease, talk to your healthcare provider to see if palivizumab can be used as a preventive measure." (CDC, 2022)
---
Access Mental Health for Moms
Posted on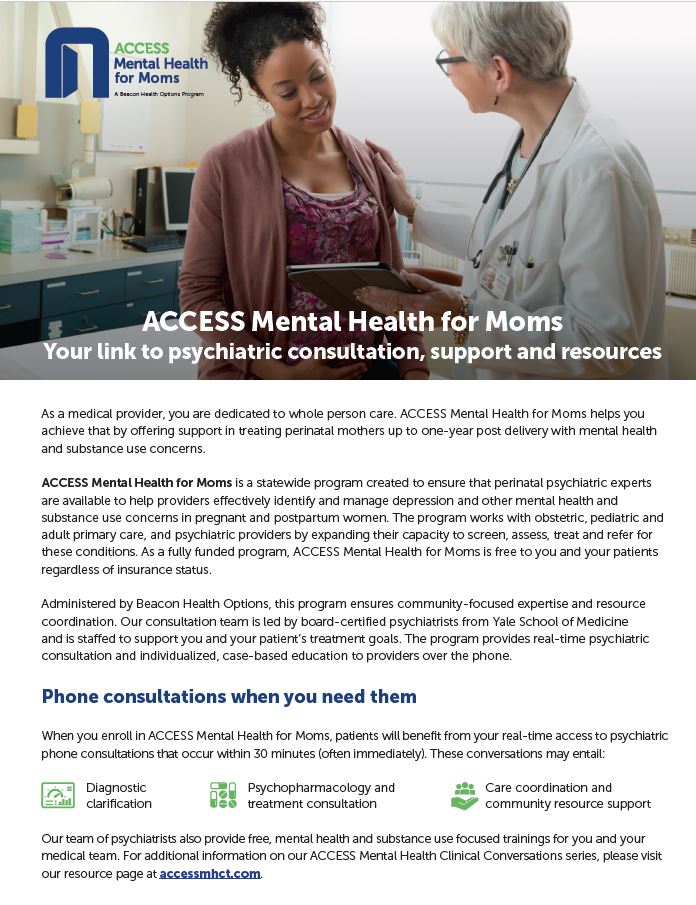 ---
Baby Formula Shortage
Posted on
Steps to safely nourish your baby during the formula shortage
Due to supply chain issues coupled with the recall of several formula products in recent months, parents are finding it more and more difficult to find stores without empty shelves of formula.
There are some steps that we are recommending parents and families to follow in order to navigate this very challenging and scary time:
Ask family members and friends to keep an eye on the formula shelves at the stores they visit. Check smaller stores too, which may not run out as quickly as the larger stores that get more traffic.
Check online to see if you can buy directly from the manufacturer or from a reputable distributor. Facebook also has groups that you can search for and join where members share information about shelves being restocked as well as other tips and tricks for finding specific types of formula.
Avoid stockpiling formula. According to the American Academy of Pediatrics (AAP), they are advising to buy no more than a 10-day to 2-week supply of formula to help ease the impact of shortages.
Contact your local WIC office for recommendations on accessing available supplies.
And as always, you are encouraged to call our office for recommendations on other brands, including store brands, that would be safe for your baby. Most infants can safely switch, but some have allergies or other special dietary needs that require formulas with specific ingredients.
---
An Important Message from Maria Bernadi
Posted on
We are sad to announce that Maria Bernardi, our PA, is leaving the practice. We will miss her greatly.
"With a heavy heart, I have decided to leave Pediatric Associates of CT to pursue other career opportunities. It has been my greatest pleasure to work at Pediatric Associates of CT for the past 19 years. I will always remember the great relationships I developed with patients, both past and present, and with the wonderful professionals that I have been fortunate to work with during my time at PAC. I will miss my patients dearly and hope you all grow into healthy, happy adults!"
Sincerely,
Maria Benardi PAC
---
UConn Screening Study
Posted on
We have partnered with UConn in a screening study for developmental concerns. If you enroll in this study and your child shows some risk for a developmental concern, you will be offered a no-cost evaluation for your child soon after you complete the screen.
If your child is due to come in for their 18-month-old well check, please complete the questionnaire prior to your appt. You may do so by going to www.checkupquestions.com. We encourage all of our age appropriate patients to participate.
---
An Important Message from Dr. Charles Fischbein
Posted on
It has been my privilege to serve several generations of patients in the greater Waterbury area for the past 45 years! At the end of May 2019 I will retire from practice. I will miss my patients and their parents, many who have become friends. Please know that you will be well served by my colleagues at Pediatric Associates of Conn., P.C.
---